Bollywood actress
Kangna Ranaut
Took to her Instagram handle and stood up with her latest 'begging' comment on India's freedom struggle against the British. People are being urged to take the side of Mahatma Gandhi
Subhash Chandra Bose
She shared an old newspaper article from the 1940s with the headline, "Gandhi, others agree to hand over to Netaji."
She wrote in the caption, "Either you are a fan of Gandhi or a supporter of Netaji. You can't be both, choose and decide. "
She further added, "Those who fought for freedom were" handed over "to their masters … who did not have the courage to boil hot blood to fight their tyranny but they were power hungry and clever … this is it. He who taught us, "If someone slaps you, give you another cheek for another slap and that way you will get freedom. That way no one gets freedom, the same begging can be found. Choose your hero wisely."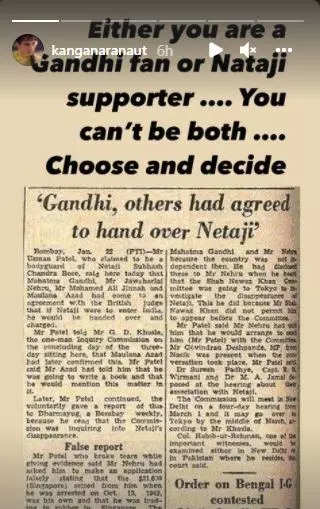 She further said that Gandhiji never endorsed either Bhagat Singh or Subhash Chandra Bose and added, "So you need to choose who you support because you just put them all in one box of your memory and wish them happy birthday every year. It is not right to give. Enough. In fact, it's not just dumb, it's extremely irresponsible and superficial. One has to know their history and their heroes. "
Not long ago, Kangana sparked controversy when she said that India gained independence in 2014, hinting at a BJP-led government, while independence in 1947 was "begging". NCP spokesperson Nawab Malik She demanded that her Padma Shri be revoked and that a case be filed against Kangana for insulting freedom fighters.
Offering to return the prestigious Padma Shri award, Kangana shared a quote from a book and wrote, "In the same interview, everything was very clearly mentioned in the first mass struggle for independence in 1857 … along with Subhash Chandra Bose, Rani Lakshmibai and Veer. The sacrifices of the dignitaries are also mentioned. Savarkar g. 1857 I know but I don't know what war happened in 1947. If anyone can bring me awareness I will give it back. My Padma Shri And also apologize… please help me with this. "
"As far as 2014 independence is concerned, I specifically said that we may have material freedom, but India's consciousness and conscience were liberated in 2014 … a dead culture came alive and fluttered its wings and is now roaring. And flying high .. Today for the first time … People can't shy away from us not speaking English or coming from small towns or using products made in India … Everything is clear and obvious in a single visit … But if there are thieves Unki to jalegi … no one can extinguish (those who have a guilty conscience will be burnt, nothing can be done about it) … Jai Hind "she justified.